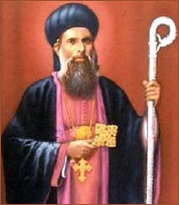 Mar Gregorios Orthodox Christian Student Movement (MGOCSM) is the student wing of the Malankara Orthodox Syrian Church. The aim of the organisation is to bring together our students in various colleges and high schools with a view to deepening their spiritual life and to create in them a livelier sense of fellowship.
Ours is the oldest Christian student organization in India.
Our motto is Worship – Service – Study.
AIM:
(i) to deepen the spiritual life of the students,
(ii) to lead them to be loyal members of the Church, and
iii) to influence them to devote themselves for the work of extending the Kingdom of God.
MGOCSM have been maintaining inter-disciplinary contacts in the academic field for along time by the formation of its wings. There are college student's wing, high school student's wing, University teacher's association, School teacher's association, Medical Auxiliary, Technical Auxiliary, Missionary forum, Literary forum, Publication wing, and etc.
The greatest contribution the movement had made to the church is that, it has prepared and provided able and outstanding leaders for his/her service from time to time. In spite of the chaos in the academic world, the movement is going ahead with its dynamic programs seeking the intercession of our patron St: Gregorios of Parumala.