The Catholicate of the Malankara Orthodox Syrian Church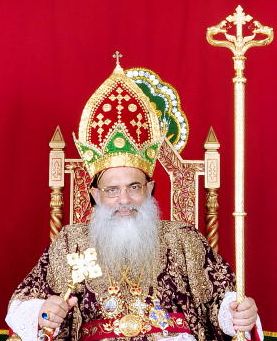 His Holiness Baselious Marthoma Paulose II, eighth Catholicos of the East – in Malankara.
The Holy Episcopal synod and the Managing committee nominated His Grace as the successor to the Catholicos of the East and Malankara Metropolitan on 27 Sep 2006.Elevated to the throne of The Catholicos of The East and Malankara Metropolitan on 1 Nov 2010.
Three score years ago in a small village called Mangad near Kunnamkulam was born Paul on 30th Aug 1946 in the ancient Syrian Christian family of Kollannur to K. I. Ipe and Kunjeetty. Pauls mother hails from the famous family of Pulikkottil and Paul was baptized at St. marys orthodox church, pazhanj. Groomed by his parents and grand parents, Paul had his LP and UP education at Mangad schools.
He had his secondary education at Govt. H. S, Pazhanji, Paul moved to the city of Trissur for his pre-university and undergraduate studies at St. Thomas college, Trissur from where Paul passed in flying colours. He had his postgraduate studies in sociology at CMS College, Kottayam.
From his childhood Paul showed keen interest in spiritual matters. His parish church, St. Marys Orthodox church was the nerve centre of his spiritual growth. At the age of 13, he was selected by his parish priest to be vast in the washing of feat service celebrated by H G Paulose Mar Severios Metropolitan. This marked a turning point in the life of young Paul when the metropolitan invited him to the priesthood. The influence of his parents especially that of his mother who hails from the famous Pulikkottil family played a great role in moulding his early life. Even from his childhood, he use to learn Syriac chants and prayers and was very keen in attending the church service. Young Paul joined the Orthodox Theological Seminary from where he secured GST and took BD from the Serampore University.
H G the late Yuhanon Mar Severios, Metropolitan of Kochi diocese ordained him as sub deacon at Parumala seminary on 8th April 1972 and as deacon at Sion seminary, Koratty on 31st May 1973. He was ordained as priest by H G the late Yuhanon Mar Severios at Sion Seminary, Koratty on 2nd June 1973. Fr K I Paul celebrated his fist Holy Qurbana at Mar Gregorius Orthodox Chapel Mangad.
Fr Paul served as a model shepherd of St. Marys Orthodox Church Ernakulam, Moolepat Orthodox church Pazhanji, St. Marys Magdalene Convent Adappotty, Kummanmkulam and Medical College Chapel Kottayam. The malankara Syrian Christian association held at MGM Thiruvalla on December 28th 1982 elected Fr Paul as metropolitan. H G the late Mathews Mar Coorilos (later H H Moran Mar Baselius Mar Thoma Mathews II) professed him Ramban on 14 May 1983 at Parumala Seminary. On 15th May 1985 H H Moran Mar Baselius Marthoma Mathews I consecrated Paul ramban as Episcopa with the name Paulose Mar Milithios.
H G Paulose Mar Milithios had the privileged of becoming the first bishop of newly formed Kunnamkulam diociese on 1st August 1985. His Grace was elevated as Metropolitan on 25th Oct 1991. besides shepherding the kunnamkulam dioceses His Grace serves as the president of orthodox Syrian Sunday school association of the east (OSSAE), MBCH Mannapra Vadavucode, Pulikottil Mar Divannasius Bhavan Kottapady. His Grace is the vice president of Mar Gregorios Orthodox Christian Student Movement of India, MMM hospital, Kunnamkulam and manager of M. D. college Pazhanji. His grace has also served as the president of the Orthodox Youth Movement.
Click here for more information about the History of the Catholicate