Rev.Fr. N.S Varghese bid farewell to Bahrain after his meritorious tenure and Rev. Fr. Abraham Joseph took charge as the 17th Vicar and President of our church. Under the able leadership of Rev.Fr. N.S Varghese the departing vicar, the parish was able to collect a considerable amount for the church building fund. Abraham Joseph Achen was blessed and designated by God and as the 2nd Solomon of church to fulfill the work of N.S. Varghese Achens effort to carry out the construction of the new Church building.

Foundation Stone laying ceremony of New Church
H.G. Geevarghese Mar Coorilos, our Diocesan Metropolitan, H.G. Geevarghese Mar Ivanios of Kottayam Diocese and H.G Kuriakose Mar Clemis, Metropolitan of Sultan Batteri visited our church during this year and blessed the new Church building construction plan.
Registration of the adjacent plot was done in the name of the parish at the landregistration department, Ministry of Justice and Islamic affairs on 5th January. The new registration combined both plot of land and issued a new Title Deed.
Last Holy Qurbana in the old church building was conducted on 12th October. The church was moved to temporary parish building in a villa in Segaya where the first Holy Qurbana was conducted on 14th October.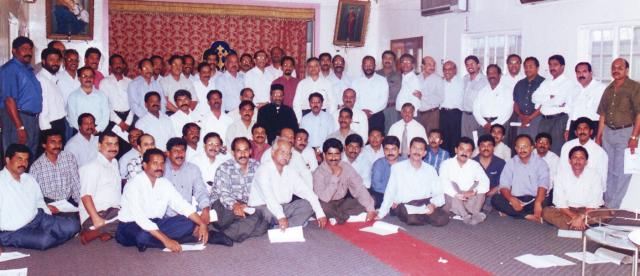 The last general body held in our old Church
The foundation stone for new church building was blessed by His HolinessMoran Mar Marthoma Mathews II and laid on 2nd November 2001 byH.G. Geevarghese Mar Coorilos, our Diocesan Metropolitan in the presence of the Archbishop of Canterbury, the Most Rev. and Right Hon. The Lord Dr. George Carey, chief guest of the ceremony, Rt. Rev. Clive Handford, Bishop of Cyprus and Gulf Diocese of Anglican church, H.E Mr. Abdul Nabi Al Shoala, Minister of Labour and Social Affairs, H.E.Mr. Surinder Singh Gill, the Indian Ambassador to Bahrain, H.E. Mr. Peter Ford, the British Ambassador, H.E Rodolpho Dumapias, the Philippine Ambassador, officials from Ministries, the Shura Council, Vicars and members of sister parishes, business men, representatives of middle east council of churches, media and television.
A maiden parish telephone directory of all subscribing members were publishedduring this year and distributed free of cost. The directory was released by Rt. Rev. Dr. Geevarghese Mar Theodosius Episcopa, Bishop of Quilon and Trivandrumof the Marthoma Church.
Parish calendar was published for the first time in our church and distributed to all our members a free of cost.
The parishs official website www.stmarybahrain.com was launched by the Vicar on 31st December which was designed and published by our member, Mr. Ajit Abraham.