The parish celebrated the Silver Jubilee of our church. We are honoured byH. H. the Amir of Bahrain granting an audience at Rifaa palace to our Diocesan Metropolitan H.G. Dr. Philipose Mar Theophilus accompanied by H. E. Mr. M. P. M. Menon the Indian Ambassador to Bahrain. At this historic audience H. H offered his blessings to the celebration of the upcoming silver jubilee of our parish.
H. G. Geevarghese Mar Evanios, Metropolitan of Bombay diocese, H.G.Stephenos Mar Theodosius, Metropolitan of Calcutta Diocese, H. G. Dr. PauloseMar Gregorios, President of World Council of Churches, Diocesan Metropolitanof Delhi, and Principal of Orthodox Theological Seminary Kottayam,H. G. Thomas Mar Athanasius, Metropolitan of Chengannur Diocese visited our parish and celebrated Holy Qurbana during this silver jubilee year.
Our parish became one of the founder members of the Ecumenical Christian moment of Bahrain comprising of Episcopal churches in Bahrain and our vicar Rev. Fr. Younan Mulamoottil became the first Chairman of KCEC.

Guests – Silver Jubilee Celerations

H.H. Shaikh Isa Bin Salman Al Khalifa receivesH.G. Dr. Paulose Mar Gregorios with The Indian Ambassador H.E. M.P.M. Menon

Silver Jubilee Celebrations

H.G. Dr. Paulose Mar Gregorios with H.E. Tariq Al Moayed, Minister of Information State of Bahrain
SILVER JUBILESS CELEBRATION COMMITTEE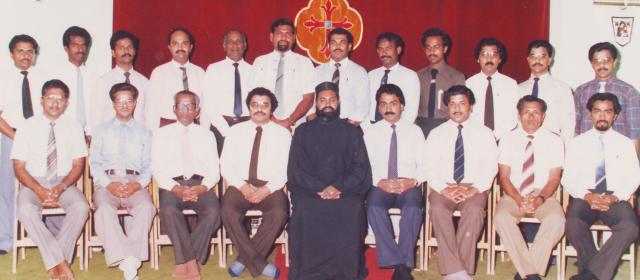 Sitting From Left: Mr. George Philip, Mr. K.S. Thomas, Mr. C. George, Mr. Soman Baby, Rev. Fr. Yohannan Mullamootil, Mr. T.I. Mathew, Mr. M. Idiculla, Mr. K.C. Mathai,Mr. John Iype. Standing from left: Mr. Samuel Baby, Mr. C.T. Philip, Mr. C.M. Mathai, Mr. Laby John, Mr. Kurian George, Mr. George Mathew, Mr. C.S. Koshy, Mr. Paulose Parambil, Mr. Abraham Varghese, Mr. Varghese T.I., Mr. A.V. John, Mr. Baby Varghese, Mr. Baby John. Not in picture: Mr. Peter Mathew, Mr. Rajan Varghese,Mr. V.P. Mathew, Mr. Pappachan Geevarghese,Mr. N.K. Mathew, Mr. Oommen Varghese, Mr. M.O. George, Mr. Varghese Chacko, Mr. Daniel Georgekutty,Mr. George Benjamin, Mr. M.M. Oommen, Mr. John Achenkunju, Mr. M.C. Cherian, Mr.C.C. Georgekutty, Mr. A.C. Chandy, Mr. Mathai K Mathai, Mr. Mohan Philip,Mr. C.M. Mathai, Mr. K.J. Abraham, Mr. M.T. Mathew, Mr. George Philip, Mr. Rajan Varghese, Mr. William Mathai, Mr. V. O. Mathew, Mr.John Issac, Mr. T. E. Thomas,Mr. Varghese Mathew, Mr. P.T. G. Panicker, Mr. V.P. Mathew

Children in action on our Silver Jubilee Celebrations

Souvenir published in connection with Silver Jubilee Celebrations