The Indian Orthodox Church members had been actively present in Bahrain since 1938 and their congregation was formally established in the year 1959. in 1968, the Late Amir, His Highness Shaikh Isa Bin Salman Al Khalifa benevolently gifted the land to the congregation for their worship at Salmaniya where the St.Marys Orthodox Syrian Church building was constructed and dedicated on 14th February 1969.
The ever increasing number of members during the 90s necessitated a serious thought to expand the building to accommodated the crowd, and it was in the year 1998, Mr. T.E. Thomas, the then Hon. Secretary, initiated the efforts to collect offers from the parishmembers to start building a fund for the construction of a new church building in additionto the charity sale proceeds from the year 1994 earmarked for the building project.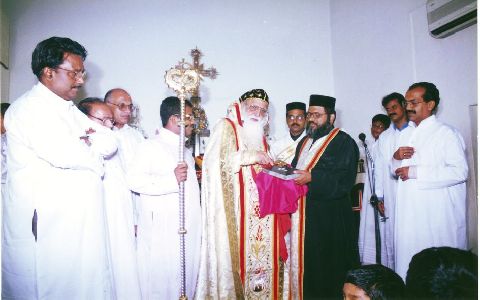 Blessing of Foundation stone by H.H. Moran Mar Baselious Marthoma Mathew II on 23rd April 2000 ……
The support and contribution ofFr. Koshy Plamoottil and Fr. Mathew AbrahamKandathil, the Vicarsof the Parish during the period, for this cause have been remarkable. A land acquiring committee was formed to find out a suitable land. During the tenure of Fr. N.S. Varghese as the Vicar of the Parish, His Majesty the King of Bahrain Shaikh Hamad Bin Isa Al Khalifa offered his patronage for the church building expansion at an audience given by His Majesty to His Holiness Moran Mar BaseliosMarthoma Mathews II, Supreme head of the Malankara Orthodox Church in April 2000. His Holiness blessed the foundation stone for the New Church Building on 23rd April 2000.