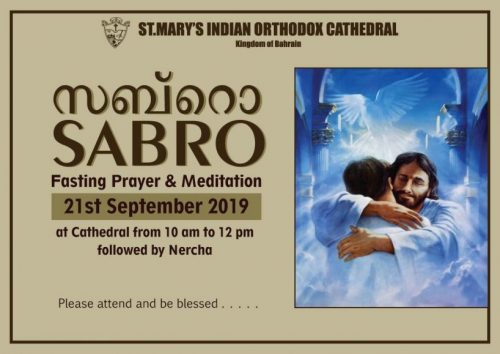 Dear All,
"Even now, declares the Lord, return to me with all your heart, with fasting and weeping and mourning. Rend your heart and not your garments. Return to the Lord your God, for he is gracious and compassionate, slow to anger and abounding in love, and he relents from sending calamity.". –  Joel 2:12-13
"എന്നാൽ ഇപ്പോഴെങ്കിലും നിങ്ങൾ പൂർണ്ണഹൃദയത്തോടും ഉപവാസത്തോടും കരച്ചലോടും വിലാപത്തോടുംകൂടെ എങ്കലേക്കു തിരിവിൻ എന്നു യഹോവയുടെ അരുളപ്പാടു. വിസ്ത്രങ്ങളെയല്ല ഹൃദയങ്ങളെ തന്നേ കീറി നിങ്ങളുടെ ദൈവമായ യഹോവയുടെ അടുക്കലേക്കു തിരിവിൻ; അവൻ കൃപയും കരുണയും ദീർഘക്ഷമയും മഹാദയയുമുള്ളവനല്ലോ; അവൻ അനർത്ഥത്തെക്കുറിച്ചു അനുതപിക്കും". – യോവേൽ 2:12-13
Every third Saturday of the month at St. Mary's Indian Orthodox Cathedral, we join together in the spiritual discipline of fasting & prayer as a church family. On this special day as we fast, we will be directing our prayers towards a different need; for our personal lives, for our church family, and for our community and government.
Our September month fasting & prayer will be held on 21 September 2019, Saturday, from 10 AM to 12 PM followed by Nercha.
Please Attend and Be Blessed…….!!!
MC 2019